Version 0.42 mid Sept. Planning. Lots of it. Still living in trailer. What do I need to have fun, not die, & fix stuff? Everything else goes. I've noticed it's totally in-vogue right now to focus on how good throwing things out feels. You know what sucks? Not having something when you need it. I'm not saying you need to hoard things -> keeping stuff you never use is dumb because it prevents you from quickly locating stuff that you might actually need. But being prepared with a well organized toolbox can be very valuable when you need it. Case and point: brewing some beer: I dragged out the brewing gear and we brewed a hefeweizen in a morning. No need to purchase anything other than the ingredients.
So you say, keep your gear, but put it in a storage unit, why keep it in your tiny house!? Here's why: assume 30 minute trips to storage, + effort to load unload: that brewing just went from 4 hrs to 5 hrs. That job where you need the special tool: just went from 10 mins to 1hr 10 mins. If you forget even one thing there then you've got another trip on your hands. I rented a storage unit for my outdoor gear and tools at my previous apartment. I could walk there in 1 minute. Even then it was still a pain and added about 5% or 10% to the time it took for me to complete almost any job. I say Never Again!
What would you do for 10% more free time?
Version 0.43 Mid Sept. Truck transmission done, no more distractions from the trailer project. I'm not a religious person but the mechanic gods were watching over me on that one haha…
trailer components are now fully in motion for the trailer. Had trouble finding a shower pan of a good size. Goal is a toilet that mounts in the same pan so you can just clean the toilet by hosing it off with the shower nozzle. Pallets of supplies are starting to litter mom & dad's yard and patio and any other space I can use.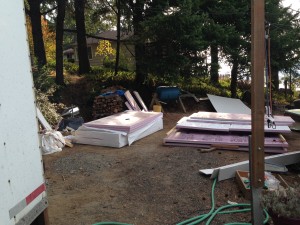 Thank goodness it's still sunny & not raining yet.
0.44: Late Sept: Planning more or less done, all stuff is here. Here's a rough white-board sketch.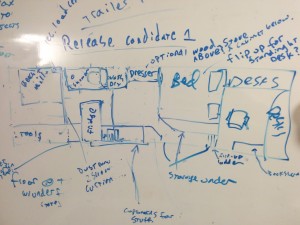 Shower pan is not made in the dimensions I want. No big deal, cut the bottom out of a cast iron bathtub. Indestructible, right size, and $50. (Plus another $50 in drill bits, grinding wheels, and sawzall blades.) Right on.
0.45: Late Sept/early Oct. Moved back to the basement, and began insulating, starting with the front – office area. Biggest challenge is attaching the insulation to the steel ribs of the trailer: the insulation is 2″ thick so you have to drill through the plywood wall, then find the stud, then drill it. Then set a screw in the same hole… I've wasted hours doing this so I'm really hopping it works well haha! insulated the floor of the office, but not the rest of the trailer floor yet, waiting to see if the floor collects moisture – if it does then I'll need to insulate.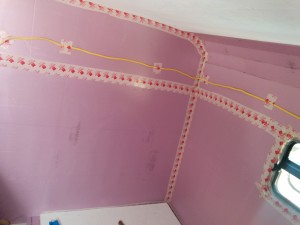 After the left-side wall insulation was complete, I re-built the bed & under-bed storage area to have less wasted space and be slightly more elegant than the original cargo-storage rack that was in version 0.1. The revisions made the to-do list because they're easy to do at the moment, and I REALLY do not want to have to open any walls after the job is done.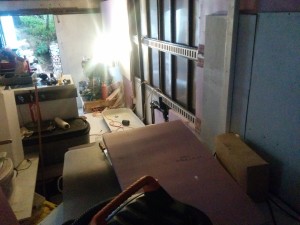 0.46: Early Oct. Plumbing & electrical sections that go in the wall need to be complete before wall is installed. This also requires that I actually have a complete plan for the plumbing and electrical more than just "these fittings should fit together and do what I want." Laid out the plumbing, found a couple revisions & then got it all glued in. There is no grey water tank. (But you say, it's a tiny house! how can you be so evil to the environment!?) Well according to more experienced sanitation engineers (seriously check 'em out, lots of good grey water adventures) than I, grey water turns into black water after only 24 hours, and I have zero interest in trying to empty a grey water tank every 24 hours, let alone trying to empty one when it's minus 10 out. Instead I have one (soon to be insulated?) 40 gallon black water tank, and gray-water "take-off" valves. If I am near a real gray water catchment/disposal system, I can open these valves and hook up my shower + laundry water for proper recycling: watering grass or trees. Otherwise it's not worth the separate tank and extra plumbing to me – seeing as the trailer should spend most of it's time connected to a house or at an RV park, this is fine.
0.47: Mid Oct: Almost entire trailer is insulated! 7/8 of ceiling complete, and doors still remaining.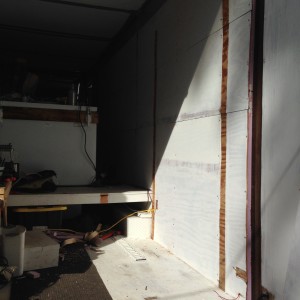 Still struggling with drilling holes in the metal studs. Walls going back up, Now for a test-kitchen! Plan is easy to change plywood counters and shelves as I test various kitchen layouts. Goal is dishwasher, sink, toaster oven, prep space, cabinets for storing things, and of course an espresso station. Cooking is on the BBQ, fridge is a modified chest-freezer. After that it's on to the bathroom and finish the electrical.
0.48: Mid-Late Oct: Ran remaining electrical wires and plumbing – still struggling a bit with the fact that to finish the plumbing and electrical, the walls need to mostly be up, but to finish the walls, the plumbing had to be done. At any rate, got all the wires and pipes in about the right spot, put the walls up, tacked the ceiling supports, hung light fixtures etc… Lots of drilling and Dust in the trailer so am still living in mom & dad's basement/studio.
My thoughts at this point in the build: Tiny house dwelling is awesome, Iterative development is the way to go if you want to end up with optimal layouts. Some stuff you just don't notice in CAD.
If I was building another, I'd do it all from scratch on top of a 36′ or 40′ three axle goose-neck flatbed trailer. (longer + more weight cap = more shop space. Without the shop I could have fit in a 24′ trailer just fine. Without brewing & outdoors gear, that could shorten to 16′ easily. Without office space, that could drop the ceiling down to 6.5 feet. Regardless of what I put in it, I'd plan on one side having the windows & doors, and the other having extra insulation & minimal windows: in the summer time, face the windows north to dump heat. In the winter time, face them south to gain heat. That said, I'm happy with the current layout and size, it'll work just fine.
0.49 Late Oct – took a crack at the mini-bathroom and it's walls – want plenty of time for the solvent/glue used to hold FRP panels up to dry before I move in.
Fabricated some sheet metal sections to complete the "tub surround" We'll see if they work.
Found some roller-track and corrugated plastic to use as a shower door: Am pretty proud of the cost engineering here: $50 for 2 tracks, and $20 for 1 4×8 corrugated plastic sheet! You find me a non-nasty, waterproof, opaque, lightweight sliding shower door that is 6′ tall for that! Good luck. Plus it turns out I needed the scraps from the door to build my heat-recovery-ventilator later on so that went better than I planned it for once!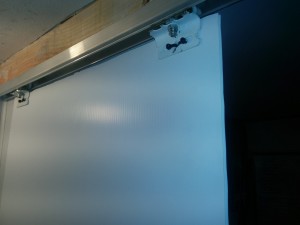 Installed a shower mixing valve and most of the fresh water plumbing, tested and everything leaked past ~70psi, good thing we only run at 50psi haha. But seriously, long term, will need to change out all the pex tubing hose clamps I used for the more robust hose crimps.
First crack at a copper counter top was a total disaster! 36 gauge copper = basically aluminum foil but copper colored. Found some 22 gauge locally for the same price as the 36 was! I wish I'd checked around better before!
The 22 gauge copper counter tops look great! No clear-coat, just straight copper and watch it age naturally. Realized the sink drain wasn't quite right so screwed around with plumbing in the dishwasher for a while till it looked good.
0.50: Early Nov – Custom bathroom surround is done. Even the ceiling should be waterproof. We'll see. Bathroom has a vent and light, added wireless light switches by sky-link for main area. Wireless switches allow you to break all the rules about where light switches should be. I mounted mine to a door even.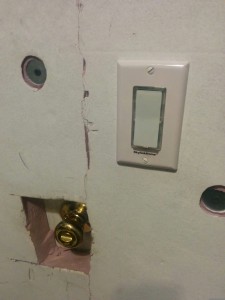 Wired the load center & terminated all the outlets & switches/etc. Connected up to house power with some 50A extension cables made for RV's so I can get power from a house or wherever there's a plug, I suppose even a generator could work in a pinch. No requirement for any inspections here, though I did attempt to follow common sense.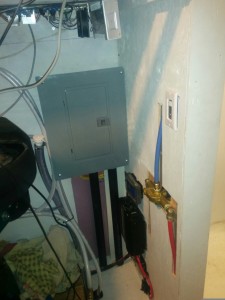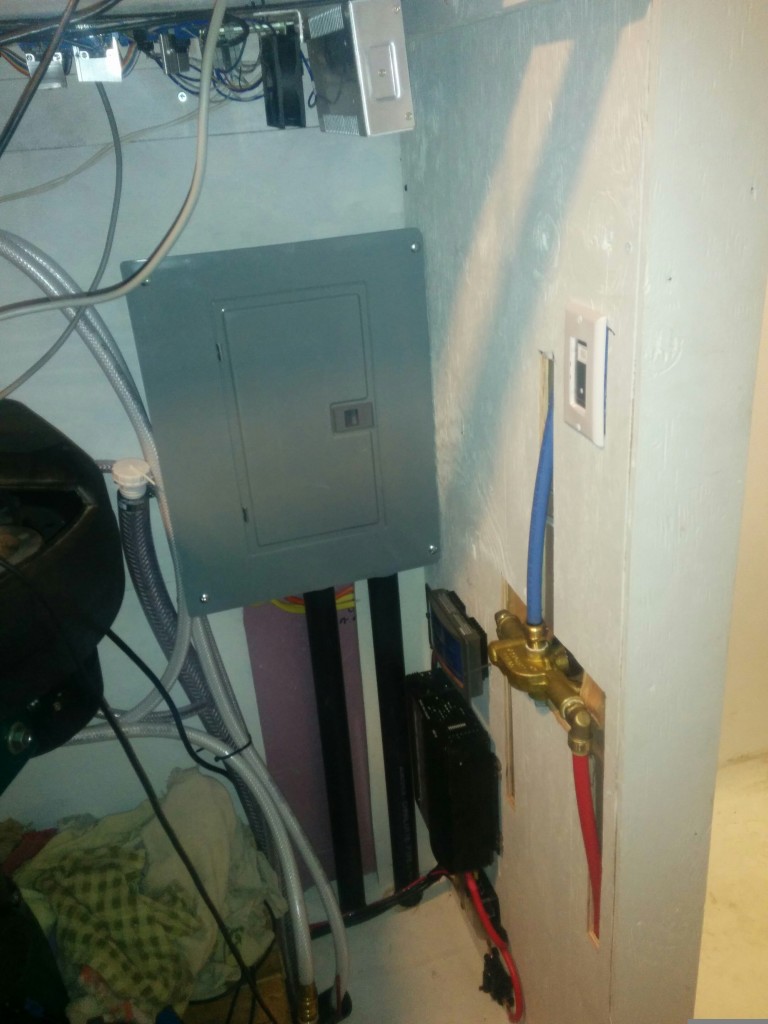 Wired in the solar panel on a 12V deep cycle marine battery – goal is for that marine battery to stay topped up by the solar panel and use it for various 12V systems onboard: waste pump, Water pump, HRV, 1kw inverter for light off-grid operations. Hopefully will be enough to keep the computers on if the power goes out.
Tested waste system one last time with clean water, tapped ½ NPT threads into the manhole cover in our back yard, Screwed in a garden hose adapter to the waste pump. Bathroom is mostly done, installed toilet, turned on the power, plugged stuff in, swept up and vacuumed a bit, and best of all: I moved in!